Scuba Diving Tours
KONA, HI
When you visit Hawaii, you want to experience the ocean.  The best way is to take a SCUBA diving or snorkeling tour.  When you dive beneath the waves, you'll fee the pulse of the islands, view reefs teeming with fish and have the experience of a lifetime.  In Kona, you never know what you're going to see: dolphins, mantas, hammerheads, tiger sharks, whale sharks?  Yes, we've seen all those things!
Take a look around our website and find out more about our many exciting adventures.
SMALL GROUPS AND
A RELAXED ATMOSPHERE
At Pacific Rim Divers, we believe the key to a great Kona diving experience is a knowledgeable guide, a small group and a relaxed atmosphere. We limit our groups to six divers or less.  And we'll never rush you.
Small groups allow us to give our full attention to our divers' needs and safety.  You might be the new diver who's a little anxious and needs a bit of extra help.  Or maybe you're the photographer who doesn't want to miss taking a picture of every critter your guide finds.  Either way, we've got you covered.
A Personal Touch
Pacific Rim Divers was born out of a dream Frank and Patrice had to own a boat and take small groups of people diving.  Today, that dream has been going strong for 25 years.  Over time, customers have become friends. In fact, 85% of the people who dive with us have done so before and will do so again.
When you dive with Patrice, you'll quickly see why divers are drawn to her critter-finding abilities.  And her secret-recipe, homemade brownies (they come out during the surface interval) are also sure to keep you coming back.
Hang out on the boat with Frank and you'll make a friend for life.
Come dive with us and find out why our customers think we're the best diving company in Kona.
Have questions that aren't answered on our website?  Email us we're always happy to hear from you.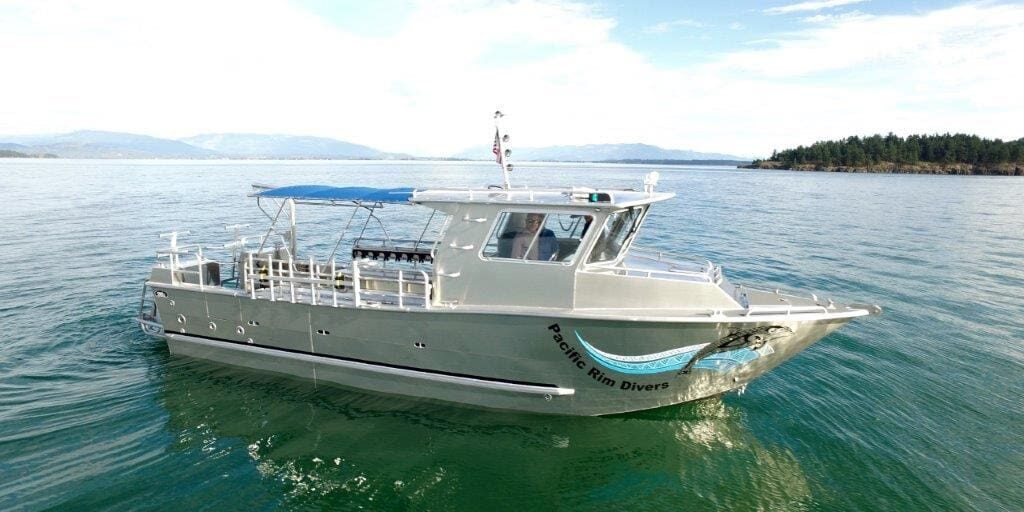 Hawaii
The Big Island Revealed
Pacific Rim Divers is listed "Tops in Kona" by Authors Andrew Doughty and Harriett Friedman.
They say, "There are lots of dive outfits on the island...If we had to pick one, it would probably be Pacific Rim Divers."
Click the button to check out their guide book "Hawaii The Big Island Revealed" as well as their popular guides to the other Hawaiian Islands.