Welcome to Kona
on the Big Island of Hawaii
The largest, youngest and most protected member of the Hawaiian chain, the Big Island is home to beautiful reef life, spectacular visibility, interesting lava tubes, turtles, hundreds of species of fish, magnificent mantas, dolphins, whales and so much more. Below the surface, Kona's waters teem with life. And for the past 20 years, we at Pacific Rim Divers have been fortunate enough to share that incredible life with you, our divers.
Our goal has always been to provide our guests with the kind of diving that we enjoy most. To us that means small groups and long bottom times. Our divers get to explore at an unhurried pace guided by a divemaster or instructor that is truly interested in sharing Kona's amazing reef life, critters and behaviors with you.
Our custom dive boat Boundless is beautiful, comfortable and built just with our SCUBA divers and snorkelers in mind. Our crew is dedicated to making your experience on and under the water fun, safe and memorable. From Aloha to Mahalo, we want your day with us to be great!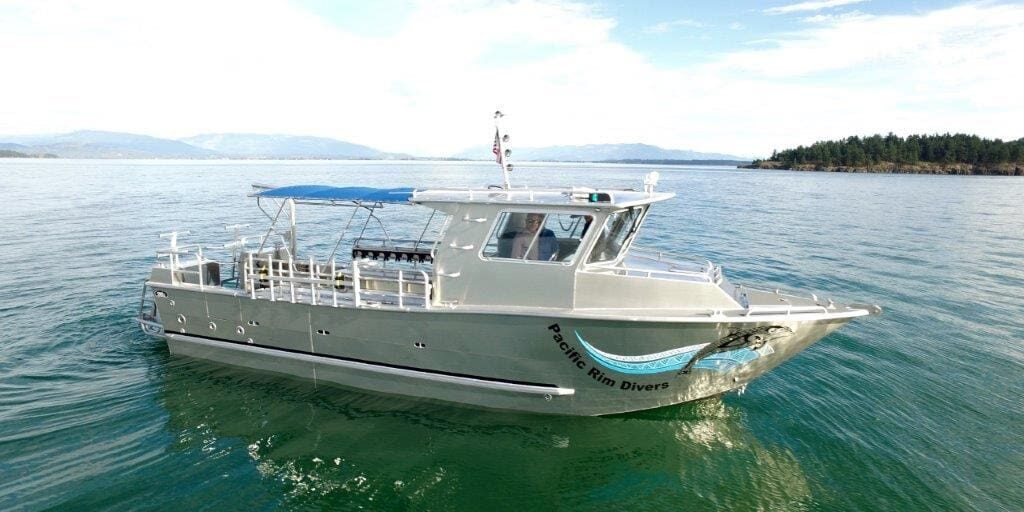 "Hawaii,
The Big Island Revealed"
Pacific Rim Divers is listed as one of the "Tops in Kona" by Authors Andrew Doughty and Harriett Friedman. "If we had to pick one, it would probably be Pacific Rim Divers." 
Check out their guide book "Hawaii, The Big Island Revealed" as well as their popular guides to the other Hawaiian Islands by clicking on the button below.